The "Newfund LP Experience": designed to elevate your financial and intellectual growth
In the fast-paced world of venture capital, Newfund has been a key player since its creation in 2008, guiding early-stage founders towards global expansion and substantial growth. This journey has enabled our French and US teams to meet with numerous visionary entrepreneurs, conducting not only to a favorable financial track record, but also to taking part in cutting-edge adventures. Central to this success story are our Limited Partners (LPs), whose contributions have led us to the creation of a distinctive and exclusive concept: the Newfund LP experience.
"Intellectual Curiosity": uniting diverse minds
Among the vibrant Newfund LP Community is a curated assembly of 250 influential individuals. This diverse cohort comprises successful exit entrepreneurs, corporate leaders, private equity experts, writers, economists, public servants… all having had prior involvement in the entrepreneurial ecosystem, and wanting to actively invest their wealth in a meaningful way, proactively managing risks and conflicts of interest.
Among them, many are seasoned business angels seeking to elevate their investment journey to new heights. To invest in one of our generalist or BrainTech funds, prior experience in any field isn't a prerequisite. All LPs are driven by a common passion: to explore uncharted intellectual territories for individual growth.
Embarking on the Newfund journey offers these individuals access to a panel of tailored events and thoughtfully curated content designed to nourish what we like to call their "intellectual curiosity". From diving into the vision of our portfolio companies to unraveling the complex methodologies underpinning venture capital… the "Newfund LP Experience" is a multifaceted immersion that redefines knowledge and engagement.
While all the following components of the experience are numerous, we do recognize that engagement should never be mandatory. Each LP is free to tailor their involvement to their preferences.
Transparency: demystifying the black box effect
At Newfund, we stand as a beacon of transparency in this often enigmatic landscape of private equity. Committed to dismantling the "black box" perception, we consistently furnish our LPs with insights about the impact of our economy on portfolio companies, our projections for the evolution of the startup / VC landscape, as well as updates on how our founders are doing.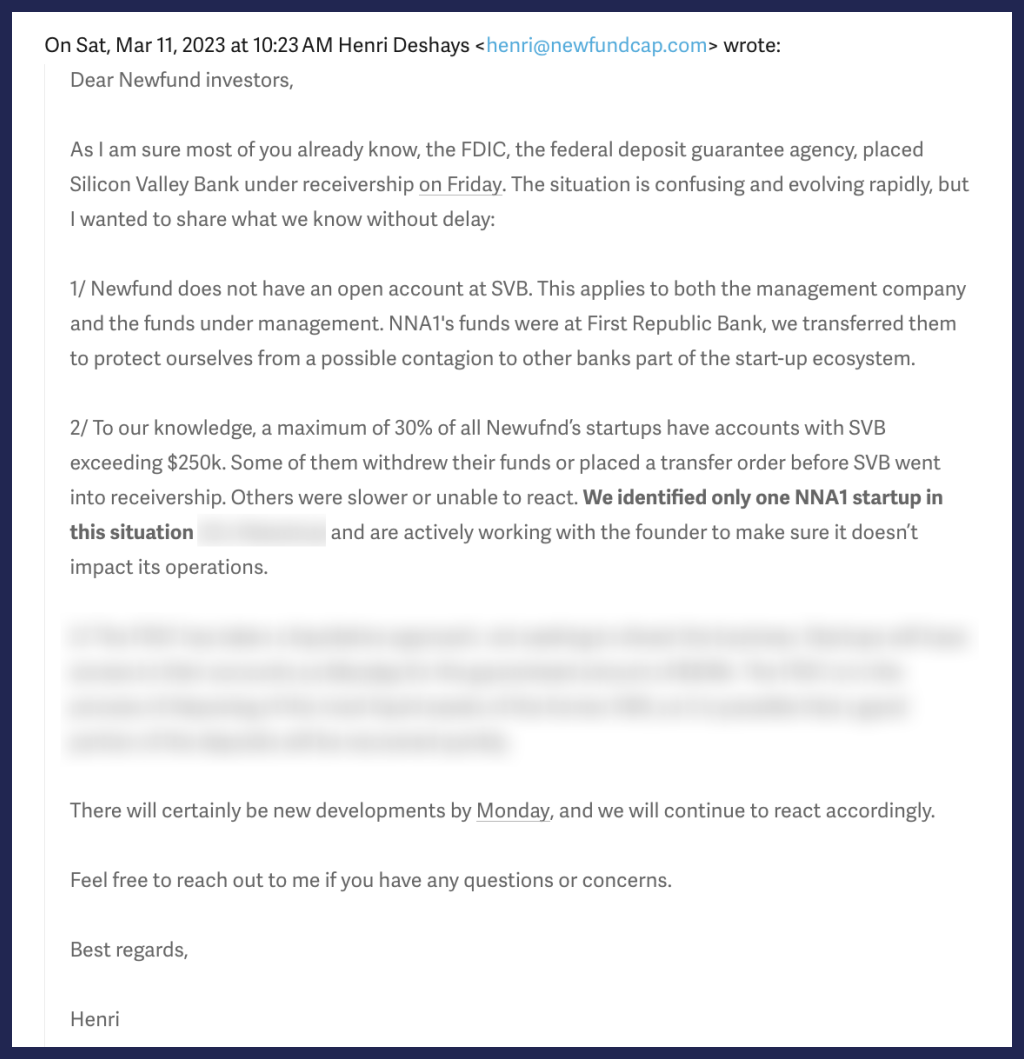 Our LPs can also gain a deeper understanding of our sourcing and selection mechanisms, or follow masterclasses from our team members on ways we are exploring generative AI to implement even more efficient workflows internally. Disclaimer: Please note that to safeguard privacy, access to this content is exclusive to members of the LP community.
By having them step out of the shadows, we empower our LPs to become integral participants in the Newfund journey. To further enhance this experience, our tech team also developed internal tools, such as the "LP Dashboard", which shows you real-time updates on the value of your invested assets and an effortless navigation through historical data usually hidden in PDF reports.
Disclaimer: Please note that the data displayed in this screenshot was generated for demonstration purposes and does not represent the actual data of Newfund.
Interested in a detailed and interactive view of the dashboard? Book a demo here.
"Mind Mixers": connecting people, science and insights
At the core of the Newfund LP experience lies the captivating series of "Mind Mixers". These exclusive gatherings go beyond conventional networking, offering monthly occasions for a convergence of diverse minds and in-depth explorations of specific topics, supported by scientific knowledge.

For early risers, we curate "brain capital breakfast" roundtable sessions featuring experts who share their insights. Past sessions have delved into emerging research regarding the roles of nutrigenetics and the microbiome in mental health with distinguished professors such as Joël Doré, Sophie Layé, and Marion Leboyer. Another engaging conversation about the role of technology in the "Social" development of ESG took place with Marlène Schiappa (Former French Secretary of State for Social and Solidarity Economy) and Sébastien Crozier (Board Member and Head of Sponsorship at telecommunications operator Orange). To us, "impact" isn't just a label; it is a commitment that infuses every facet of our endeavors as our BrainTech fund operates as an Article 9 SFDR impact fund.
For those who lean towards evening events, we facilitate a rather nontraditional format where participants are divided into small groups of 8-10 individuals for one or two private round table sessions, before mingling with everyone. This allows for more in-depth discussions where everyone actively engages and establishes deeper connections with peers, transcending the conventional surface-level discussions of "what do you do". Our most recent mind mixer afterwork explored the concept of "longevity", examining its varied perceptions, evolution, and practices across different regions such as Europe, the USA, and the Middle East. Our LPs and expert guests also discussed the main pillars promoting a longer lifespan and healthspan, which were later summarized in a document outlining key takeaways drawn from the event.
As we want to go beyond gatherings with shallow conversations, each of these sessions encompasses a mix of meticulously crafted topics, expert guests, and scientific knowledge.
And in addition to these private sessions, LPs of all our Newfund funds come together from all over the world every year for the annual Newfund celebration (click here to see aftermovie).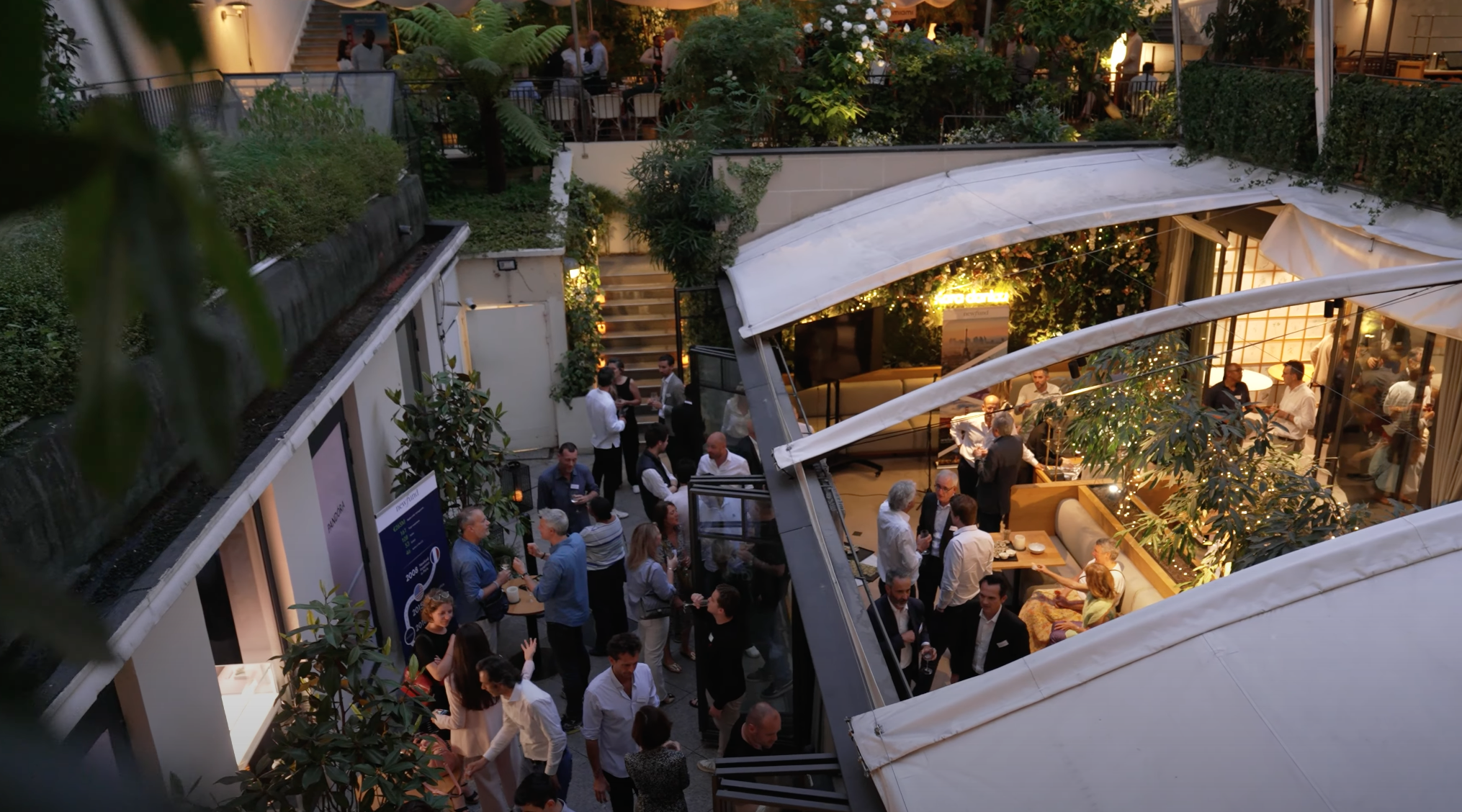 Knowledge fusion: sharing expertise when it makes sense
To complement this convergence of knowledge accessible through our mind mixers, our team also regularly shares updates on the endeavors of our portfolio companies, along with studies focused on the sub-sectors we are actively exploring.
Our most recent ones include:
LPs who opt for an active role within the fund can also extend their participation by directly helping portfolio startups. We are developing a framework to facilitate connections between founders and community members when it makes sense. This collaboration is based on a double opt-in from both the LP and the founder. It can involve offering one-time support, such as an introduction, or engaging in collaborative work sessions when an LP's expertise aligns with a particular challenge that an entrepreneur is encountering.
As some find great fulfillment in the hands-on role of a business angel, this offers them an added opportunity to connect with founders in this VC experience, which will also impact the portfolio's overall performance.
The Newfund+ App: building the "Startup OS"
Last but not least, the newest project our tech and marketing teams have been working on for the past months is the Newfund+ app. Designed as our "Newfund operating system", it is an internal tool connecting LPs to every facet of our activities: giving direct access to our deal flow, offering real-time tracking of asset evolution, sharing the latest news from our portfolio companies or internal projects dedicated to benefitting the fund.
And the app also extends traditional use cases of passive reading. It allows active engagement for LPs who want to recommend a startup to invest in, talents to join a portfolio company, and to extend recommendations to new like-minded LPs to embark on this adventure. Once the intro is made, they can follow the progression.
---
As our Newfund journey continues to unfold, it becomes obvious that to us, it goes way beyond financial success; it's about elevating the experience where curiosity knows no boundaries and intellectual growth flourishes. Want to have a chat about potentially joining the community?