Psychedelics: an investor perspective
We decided to dedicate a whole series of articles on the BrainTech market, to show the richness that this sector can reveal and to address the most controversial topics.  After talking about BCI, this second article deals with the psychedelic market.
The past decade has ushered in a renaissance in psychedelic medicine, inspiring a massive push for research, decriminalization, and legalization. There has been a radical shift in discussions of consciousness expansion. With burgeoning support from academia, healthcare, government, and business, we invite you to discover through this article this emerging ecosystem.
1. Psychedelic therapy renaissance is here
Psychedelic therapy renaissance is a term used to describe the renewed interest among researchers in the therapeutic potential of psychedelic substances, such as psilocybin (the active ingredient in magic mushrooms) and MDMA (component of Ecstasy).
During the past few decades, regulatory restrictions and cultural stigma had effectively halted research into the use of psychedelics for treating various mental health disorders, including depression, anxiety, PTSD, and addiction. However, recent years have seen a resurgence of interest in the study of psychedelic-assisted therapies, which has allowed researchers to resume their investigations.
Indeed, numerous clinical trials have been conducted in recent years, and the results have been highly promising. These studies have shown that psychedelic-assisted therapies can be effective in treating a wide range of mental health conditions, with some showing significant and long-lasting improvements in patients' symptoms.
In the case of psilocybin, COMPASS shown in a phase II trial involving participants with treatment-resistant depression, reduced depression scores significantly. Also, a study published in JAMA Psychiatry also showed that psilocybin is efficient in treating Major Depressive Disorder where traditional treatment failed. In treatment resistant depression, patients are at a therapeutic impasse, and doctors are disarmed as they try to overcome the disease. These results are a good source of hope for both the patients and the medical community.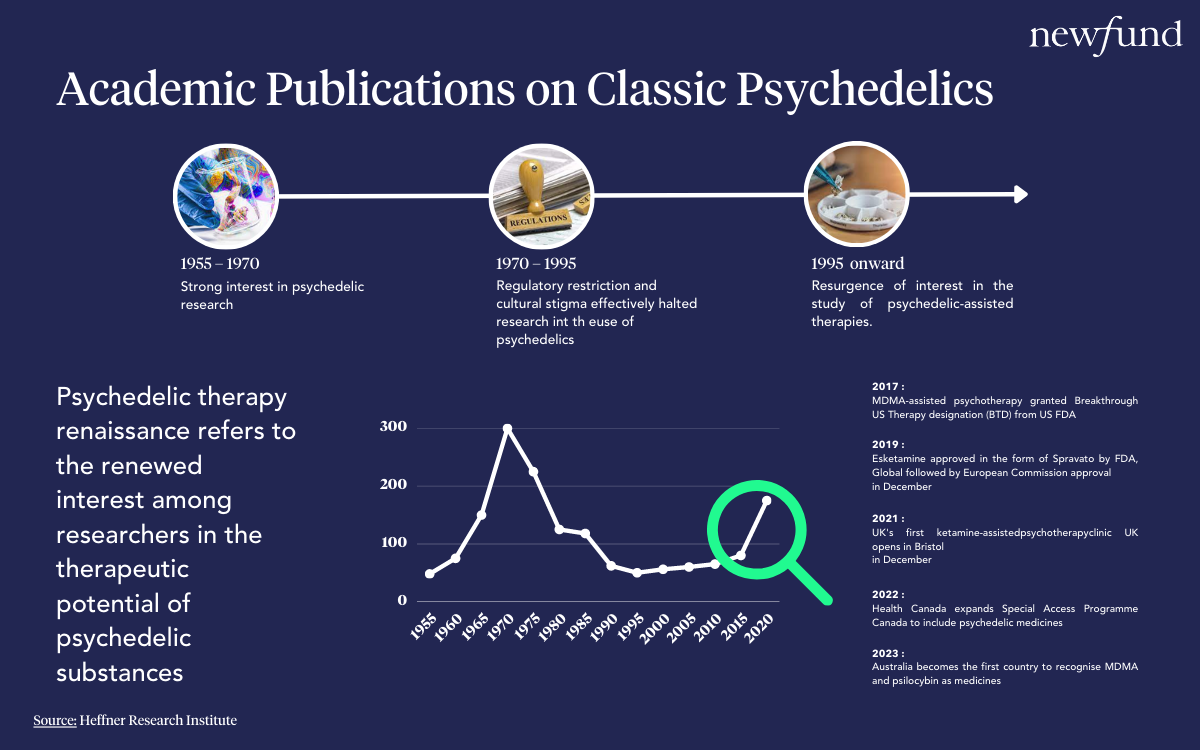 2. The market for psychedelic assisted therapies is booming
In recent years, we have seen a surge of interest from startups in the development and commercialization of psychedelic therapies, driven by the growing recognition of the potential benefits of these therapies. Despite the significant regulatory and logistical hurdles that need to be overcome, entrepreneurs remain optimistic about the potential of psychedelic therapies to revolutionize mental healthcare.
One of the key advantages of psychedelic therapies is that they offer a fundamentally different approach to mental health treatment. Unlike traditional pharmaceuticals that treat symptoms, psychedelic therapies aim to address the root causes of mental health conditions.
Indeed, a study described that psilocybin induces a 'reset' of brain activity - resetting the activity of a key brain circuit known to play a role in depression.
This approach has the potential to not only alleviate symptoms, but to also provide patients with long-lasting relief from their conditions.
While there is still much work to be done before psychedelic therapies become widely available, the growing interest and investment in this field is a promising sign for the future of mental healthcare. With the right support and resources, we may be on the brink of a major breakthrough in the treatment of mental health conditions. Namely, we need:
states to evolve regulations, or the FDA to approve drugs
investors to understand the potential of these components which may seem 'original'
and the scientific community to get out of certain cultural/ideological biases that can slow down the use of these components as we saw in the past
The market is booming because the perspectives of psychedelics are limitless.
Mental health is the therapeutic area featuring  most of the (promising!) results. Thanks to the clinical results, psychedelics could soon be prescribed to treat specific mental health conditions such as treatment-resistant depression, major depressive disorder, PTSD…

Studies also show interesting results on:
Chronic Pain: Psychedelic induced neuroplasticity
Stroke & Traumatic Brain injury: Recover from stroke and traumatic brain injury by stimulating neurogeneration
Neurodegenerative disease: Alzheimer's and Dementia may be treated by psychedelics' anti-neuroinflammatory properties
Gastrointestinal Disorders: Serotonin's role in the gut-brain-axis may allow psychedelics to treat GI disorders such as Irritable Bowel Syndrome (IBS)
and many more…
The TAM of this emerging market is therefore difficult to measure but would be between 5Bn $ and 10 Bn$ in 2027.*
*5Bn$ based on Data Bridge Market Research analyses. Similarly, according to 'The psychedelic medicine as a medecine report: Fourth Edition' by Psych, kétamine will reach +1Bn$, MDMA 2Bn$, psilocybin ~2Bn$ for a total size of 5 Bn$
*10Bn$ according to Research And Markets Market Research

3. Digital therapeutics (DTx) may be the key for psychedelic companies to scale
The scientific results are promising, and startups have developed incredible products. Currently, we estimate that 300+ psychedelic molecules either have been studied or are actively being studied.
What are the remaining challenges? Bringing these products to users and ensuring accessibility and delivery via specialized medical stores. Additionally, offering the right experience is crucial. We are focusing on the latter point and believe that DTx is the key to achieving it.
One of the biggest challenges facing psychedelic startups is the need for trained therapists to administer the treatments. In addition, there is a lack of standardized protocols and guidelines for administering these therapies.
For instance, Awakn developed an educational hub with online training module programmes. Patients & clinicians can follow a program their way and get a certificate at the end of it.
Digital therapeutics could help address some of these challenges by providing tools for therapists to monitor and track patient progress, as well as offering standardized treatment protocols. Psychedelic therapies can be emotionally intense and challenging, and patients may struggle with integrating their experiences into their daily lives. Digital therapeutics can provide ongoing support and resources to help patients navigate these challenges and stay engaged with the treatment.
For example, digital therapeutic platforms like Osmind or Maya Health provide therapists resources for conducting pre- and post-treatment assessments and tracking patient progress.
Startups like Mindbloom or Nue Life provide virtual ketamine-assisted therapy. These solutions could potentially improve the scalability of psychedelic therapies by enabling remote treatment delivery. This could increase the reach of these therapies and make them more accessible to individuals in remote or underserved areas.
Digital therapeutics can facilitate data collection and analysis: Psychedelic therapies are still in the early stages of development, and there is a need for more data to support their efficacy and safety…
We believe that this is a promising sector with many opportunities for startups to create a new market. However, startups should be aware that regulations are still uncertain and subject to change. For instance, Joe Biden recently announced a plan that may affect startups offering subscription products for home delivery. It is important for these startups to review their business model and build sustainable assets while anticipating regulatory changes.

4. Investors are grabbing the topic
Investors have shown a keen interest in the topic, and some funds are even specializing in psychedelics, such as Empath Ventures, which recently published a very interesting industry mapping. Startup studios are also specializing, as seen with Indigo, supporting the emergence of promising startups on the subject.
*Psychedelics Alpha and Psych are some of the sources we used to write this newsletter, and we really like the newsletter from UC Berkeley Center for the Science of Psychedelics: The Microdose.

Psychedelic funding
2021 was a massive year for psychedelics funding (x2 compared to 2020).
While Seed fundings have maintained the same percentage of the global value of money raised over the past three years, Series A fundings have grown year after year. This indicates that psychedelic financing relies on the following rounds.
You might then ask yourself why Series B + have dropped over the last three years? According to Psychedelics Alpha, that could be explained by the IPO of companies.
Examples of some IPOs: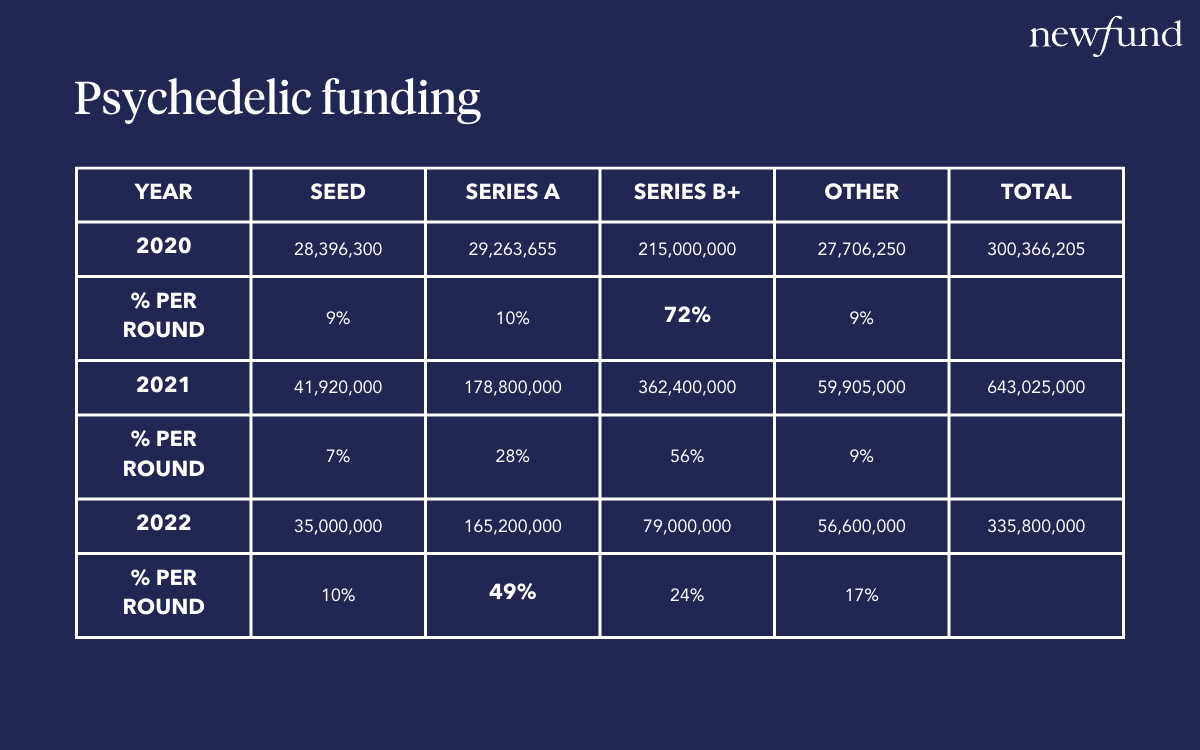 By taking a closer look most of the stocks have greatly decreased after a few months.
Some thoughts that explain these values drops:
Tech crisis: broadly, investment are harder compare to 2021/early 2022
Legalization still unclear: the legal frameworks are in constant evolution on a city scale, state scale, and national scale.
These observations aside, concentration of actors is healthy, a sorting was made between the different candidates to become the future leader of biotech psychedelics.
Like any nascent ecosystem, this concentration is a signal that the ecosystem is becoming more mature. From this observation we can think that it is the moment for some DTx startups to support Biotech champions, especially as  integration tools.

Conclusion
The psychedelics market is reaching a momentum where:
Scientific research and VC funding have led to biotech champions
The digital health ecosystem is starting to structure itself and become a key tool to support patients' care paths.
The result is a fertile ground for the birth of opportunities in digital startups supporting and accompanying the deployment of these new treatments strategies.
As psychedelics are part of the big ecosystem of BrainTech and contribute to help patients in therapeutic wandering. We are very excited to follow the progress of the emerging digital  startup focusing on psychedelic integration.
Investing in these startups bridge the gap between research center and public care  facilitating access to innovative therapies.
---
Definitions
Psychedelic medicines: Psychedelic medicines are compounds with hallucinogenic properties which alter states of consciousness, with the majority tryptamines, phenethylamines and lysergamides.
Psilocybin: Psilocybin is a prodrug derived from psilocybe fungi such as Psilocybe cubensis. When metabolised into psilocin, the indole alkaloid activates 5-HT2A receptors to produce psychoactive effects, and it is expected to be regulated for medical use in 2024.
Mescaline: Mescaline is a naturally occurring psychoactive phenethylamine derived from the cactus plant. First isolated from the peyote cactus in 1896, the molecular structure of mescaline is adrenaline and noradrenaline.
LSD: Lysergic acid diethylamide (LSD) is a synthetic psychedelic compound which binds to both serotonin and dopamine receptors. First synthesised in November 1938, LSD belongs to a chemical group named lysergamides, which have both phenethylamine and tryptamine formulations embedded within their structure.
MDMA: Expected to be regulated for medical use in 2024, MDMA was first synthesised in 1912. Similar in molecular structure to mescale and methamphetamine, MDMA is a central nervous system stimulant and empathogen which increases serotonin, dopamine and noradrenaline activity.
Ketamine: Ketamine was first synthesised in 1962 and is commonly used as an anaesthetic, but it is increasingly used off-label in therapeutic settings for its antidepressant and dissociative properties. It is available in liquid-soluble form as ketamine hydrochloride and is marketed by Endo Pharmaceuticals and Pfizer, under the brand names Ketalar and Ketanest respectively.