The benefits and lessons learned from visiting the Bay Area as a founder
A conversation with DataGalaxy co-founder Sébastien Thomas
---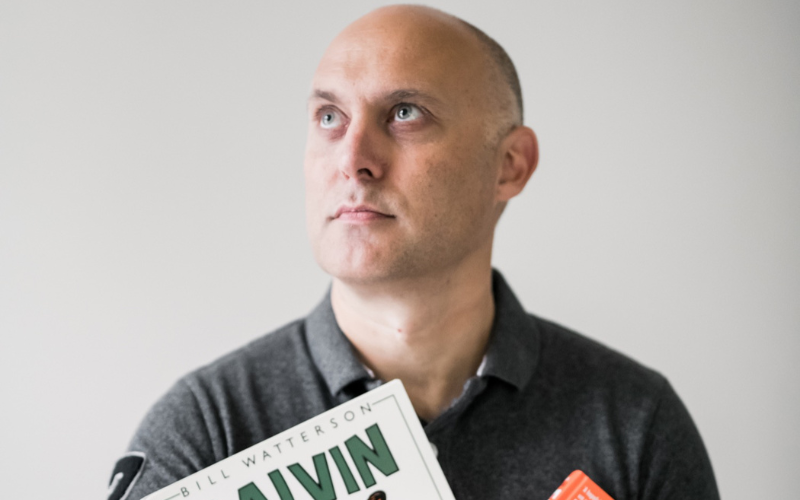 Created in 2015 by Lazhar Sellami and Sébastien Thomas,  DataGalaxy is an innovative data governance solution that offers the first agile data mapping platform, enabling teams to share a common knowledge of the company's data to stay focused on the essential: creating value with data. This is possible thanks to a central metadata repository called "Data Catalog" that allows you a complete overview of industry data to stay ahead of the competition and make better decisions.
Sébastian traveled to San Francisco for the first time for SaaStr.
In a correspondance with Newfund, he shares his thoughts and experiences of the San Francisco Bay Area from the perspective of a French founder.
Newfund: Hi Sébastien. What were your first thoughts when you found out that you would be attending SaaStr in San Francisco?
Sébastien: I have to admit that I was a bit reluctant to go to the U.S. I didn't see any immediate profitability and had no office or network of acquaintances. It almost seemed as if I was going to the Bay Area for pleasure rather than to make DataGalaxy progress. It also matters that the entire thing happened quite fast. I found out only days before that I would be able to present at SaaStr. This means that my entire stay was organized in a matter of days, be it hotel reservations, COVID travel documents, or contacting several people in SaaS companies to make the most out of my trip. Despite my initial hesitation, I boarded my plane motivated and ready for the week ahead at SaaStr. I was able to attend many conferences and to share alongside other startup founders of the digital league.

Newfund: What are your main takeaways from your experiences at SaaStr?
Sébastien: First off, I noticed that sharing is particularly important in the U.S., and not only during conferences. People are rather easy to speak with, be it to request advice, feedback or opinion on any given subject. It is also not uncommon for a simple inquiry to lead to a more concrete opportunity or partnership. This made me think of the "ask for advice, get money" that Henri* and PJ* talk about in the "The 10 commandments of doing business in the US".
On a similar note, the trip allowed me to deepen my relationships with the teams of Newfund and AV8 in Palo Alto. Meeting them on several occasions during my stay, the trip was a great way to deepen my personal relationships with the people who I had previously only seen on video calls or in the prism of board meetings. This meant, of course, that our exchanges were much more fluid, understandable and pleasant.
I was also able to experience the Silicon Valley atmosphere. It is a bit hard to explain, but certainly a very positive aspect of my trip. Let's say that walking through San Francisco really does give you the Adrenaline rush that I had previously only read about. You see the offices of tech giants such as Salesforce or Pinterest. Even the conversations you catch on the fly show you the state of mind of the area.
Besides, there was also something liberating in being forced to take a step back. While in the Bay Area, the time difference imposed a reduction of time spent with our team back in France. This lesser involvement was actually quite healthy as it allowed me to observe more and to take the time to think about how I could restructure the company.  It is needless to say that I came back energized and with enthusiasm to spare!
Newfund: What advice would you give to French startup who travel for the first time to Silicon Valley?
Sébastian: There's a whole list of things I'd recommend:
First off, plan a ten-day stay to allow you enough time to acclimate to the time difference and to put your brain in English-mode.
Also plan to go to events. There are many of them and they allow you to meet more people.
On a logistical note, make sure to reserve a coworking space for the days you won't be busy with events to avoid working from your hotel room.
Make sure your hotel is located centrally to allow you to meet your contacts at a coffee shop, if necessary.
If you get to plan ahead of time, propose 15-30 minute interviews on LinkedIn a month ahead of your trip to get feedback on your business and to understand the way people deal with things.
Make sure to read the article on the 10 commandments of doing business in the U.S. again. It contains lots of advice that you may need to remind yourself of to make the most out of your time in Silicon Valley.
While in the Bay Area, don't hesitate to socialize with people you meet anywhere. If you aren't very outgoing (like me), prepare a few catchphrases or "small talk" topics. In SF, the odds are pretty good that you'll meet someone who works in tech. (i.e., I met a Data Science student/Uber driver with whom I had a great discussion about data catalogs and semantic layers... amazing, right?)
*Henri is General Partner and PJ Entrepreneur in Residence at Newfund