Olivier Pailhès, co-founder and ex-CEO of Aircall
September 2022
---
Olivier Pailhès, co-founder of Aircall, stepped down from his position of CEO in August 2022 after a 9-year tenure at the head of the new phone cloud powerhouse, and the satifaction to have brought the company from zero to $100M+ ARR. He took the time to share his experience with Newfund's operating partner Fred Krebs.
They discussed specifically about the startup's American journey. This is a rare occasion to grab invaluable insights about how to be successful in the US when you're coming from abroad.
Frédéric Krebs: Hi Olivier, can you tell us more about your background and how you got involved in the Aircall journey?
Olivier Pailhès: I started with a fairly classic career path when I left HEC (note: France's top business school), since I joined a consulting firm, namely BCG, to learn about strategy consulting. There I met Quentin Nickmans, an important person in my life who later became the founder of E-founders. After a while, I got tired of making presentations, I wanted to be more in action, doing practical things. I moved to Spain to join ArcelorMittal, which owned steel plants there. This is a far cry from SaaS and Aircall! The problem is that I arrived in 2008, right in the middle of the subprime turmoil. I was making steel for the construction industry, and we had the Spanish real estate crisis, the Euro debt crisis and the subprime crisis. It was an absolute nightmare. Thanks to the teams, I managed to hold the house together for almost 6 years. Because of the difficulties of the sector, ArcelorMittal had fallen back on exclusively financial fundamentals and it was at that point that I felt like escaping and creating my own company, with a culture that I would have shaped in my own image.
Fred: What made you take the leap?
Oli: In 2013, I reconnected with Quentin who had created eFounders with Thibault Elzière, a startup studio. They wanted to make SaaS for all the tools that companies use on a daily basis. There was already Front, Mailjet... And there was the idea of looking at telephony. It was a completely neglected market, but it was a sector that I knew well thanks to my years at BCG. I had become one of the telecom experts in Europe and it interested me because I came with a background that was not only technical. In the summer of 2013, we created a SaaS telephony project as part of eFounders.
Fred: Did you already know Jonathan (note: future co-founder of Aircall) at that time?
Oli: I didn't know any of the future founders of Aircall. One of the roles of eFounders is to put together a team of founders tailored to the needs of the company. They first introduced me to Alex, the CTO, and we started working together. There were two of us in the fall of 2013. Very quickly, we felt we should try Y combinator, one of the most reputable startup acceleration programs in the world. We were invited to San Francisco, but we got rejected very quickly. At the time, I didn't realize it was a big blow, I didn't think it was a big deal. In 2014, we already had about 100 users on a free plan. After Y Combinator failed, the CTO decided to let go of the venture. I think he didn't take it well, as he was more tech. He wasn't convinced that I was the right person or that there was a real business to be done. His departure was a bit of a problem. Nevertheless we decided to continue. In May 2014, we created Aircall. In June, for the first time, we charged customers for the solution. That made us lose more than half of our customers. There were 40 customers left out of the original 100, but those who remained were willing to pay and, above all, were ready to make our solution progress with real interesting returns. They compensated for paying a low rate (19€/month) by being more motivated to help us build the best possible service.

Fred: Still with a minimalist team?

Oli: Actually, we found a CTO quite quickly. And everything followed quickly. Jonathan Anguelov and Pierre-Baptiste Béchu joined the team as co-founders. Jonathan specializes in sales, he's a bit of the sales Superman we needed, and Pierre-Baptiste solves complicated problems at the crossroads of telephony and back-end. It's late 2014 and we're trying to raise money. It's a complete failure with all the European VCs. eFounders is about to throw in the towel. We're almost out of money. I can't pay the CTO anymore and he's leaving. We're left without a CTO again. In desperation, I went to San Francisco to try to find business angels, and I met Michel Meyer, one of the pioneers of the Internet in France, who is now working in the United States, notably for Newfund as a Venture Partner. We got along well and immediately brought Newfund into the capital. We managed to gather 400 000€ at that time. In extremis the company is out of trouble but I am left a little traumatized after the departure of two lead engineers. In a way, we re-founded the startup. Now we are four co-founders, we get along very well, we make all the decisions together. And to be sure to ciment this team permanently, we're going to San Francisco to do 500 Startups, on the advice of François Véron, Newfund's General Partner, and Michel Meyer. François is a great believer in the kickstart effect that the American growth mindset can have on running a startup.

We set up there for four months with a challenge in mind: if we can survive together for four months in one of the toughest work environments in the world, we will create a good base for our venture. In retrospect, it was a very good decision (note: Aircall had applied to three accelerator programs: AngelPad, Alchemist and 500 Startups).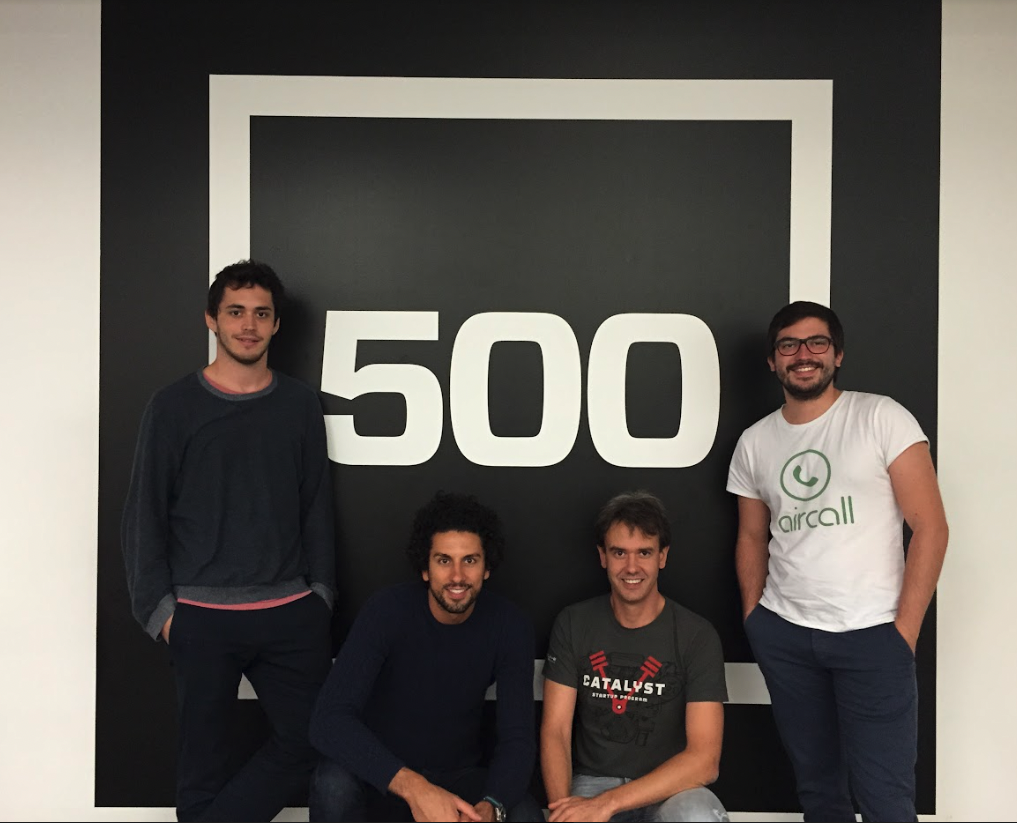 Fred: What did you learn from the four months you spent at 500 Startups?
Oli: It helped us a lot because first of all we were co-founders who didn't know each other. It was very important to live an experience together. Technically, there are still things that we use today, notably the idea that you have to keep your "heart rate" as high as possible. The "heart rate", in a way, is the time, it's the week. It's not the month. The goals are weekly. You start on Monday, you finish on Friday, but every week is the same. Whereas the months are different: December is very different from August. We ask ourselves what we want to achieve this week, setting a goal on Monday for Friday. It could be a growth goal, it could be a goal to release features... The good news is that if we don't get it done by Friday, we still have the weekend to get it done. We had a lot of mentoring on this to say you have to set goals every week. Even today, we share them with the whole company, all the time. Since this stay at 500 Startups, every Sunday, I send a recap of the week. Even with 800 employees, it's nice to know that every week there's a moment of communication where we focus on a few numbers. Another very important thing that we learned there was the "One Metric That Matters". The problem with startups is that there are a lot of metrics: pipeline, number of users, amount of marketing spend... Here, we take only one. Defining a metric can be product adoption, number of users, revenue, retention, whatever, as long as there is only one.

Fred: And you've managed to stick to it?
Oli: For a very long time our metric was MRR. It's basic, there is no need to be sophisticated. So we created a company whose culture is massively focused on growth, making it an obsession. To the detriment of other things. A few years later, we added the Net Promoter Score. Aircall is a company which is driven by its ability to respond to customer requests. The other part of the equation is our willingness to go and compete in the US market, inspired by eFounders. There was a good level of demand for the quality of the product, but when we started in the United States, we got a real slap in the face. Americans don't mess around. Either your product works or it's useless. You can't convince them using the "Mediterranean way", like we do in France.  Secondly, our product was very European in some features. The Americans were much more focused on integrating with existing tools such as Salesforce or Hubspot, for example, with an absolute requirement for productivity. In France, we are looking for an easy and inexpensive telephony system. Today, the United States is the heart of our growth thanks to our integrations and partnerships. We now make 35% of our revenues there and it continues to grow strongly. This has helped us a lot in calibrating the product with a lot of ambition and not staying in the logic of a simple, basic product for a market with low expectations. If we had started in Europe, we would have lost time.  


Fred: I would like us to stop here for a moment. Because, as you know, it's our credo at Newfund to ensure that French entrepreneurs are ambitious enough to compete in the American market. And you are the archetype of this strategy. At what point did you say to yourself, "this is it, we have to go there and here are the means we're going to use to get there". This is a discussion we have very regularly with the entrepreneurs in our portfolio.
Oli: We came back from 500 Startups at the end of 2015. I came back because I left my family with three children in France. We recruited someone to represent us in the United States and gave him an intern. At the same time, we raised our Series A with Balderton, and in January 2016, we started to blow up the numbers in the US as well as in Europe. Our revenues started to grow 25-30% per month. At the time, we exceeded €1 million in annual revenue ($1.2M at that time). As we reached the summer, Balderton, seeing these numbers, encouraged us to raise more money to build on the momentum. We had done a financing round with them of 2 million euros on a valuation of 8 million. 6 months later, we raised 8 million on a much higher valuation. We then had enough money to strengthen our position in the United States. The deal was for one of the founders to move there to create a culture that was essential to the success of the project. And you shouldn't try to save money: with 2 million euros in the bank, you can't go there. What you have to tell entrepreneurs is that everything will cost more. When you do your calculations, you add another 30 or 50%. Because Aircall is not known, there are no Americans who want to work for us in 2016. We didn't speak English very well, we were funded by Balderton, which is unknown in the United States. There was no reason for any talent to come here. The best ones are recruited by Google, Amazon, Facebook. The bottom tier, they'll go to a nice startup supported by Sequoia or Insight Partners. And you're hitting the bottom. And in fact, we had a lot of instability at the beginning. People would come in and then leave after a month. The only guy I really found amazing was Jeff Reekers, our CMO. He has one flaw and that's the flaw you have to look for when recruiting in the US. He is extremely loyal to the companies that hire him. He couldn't leave his previous job. And it cost me four to five months with the headhunter to convince him to join us. I sold him the staff, the emotion, the beginning of an extraordinary adventure. It worked, but profiles like him are exceptionally difficult to find. The others, you have to pay them a lot to come. That's why you have to raise at least 5 to 10 million Euros. And that's what I was talking about back then, but now with inflation, it's more. This is even more true if you go to New York. Far from the cliché, it's the city where you'll find all the smart creative people that your company needs. And there is also a very active network of French entrepreneurs, eager to help you.


Fred: Okay, but it's also one of the most expensive places in the United States to set up a business, right?

Oli: I'm not saying we regret it now, but we're thinking that it's a bit weird to have all this team in New York, including the support team and the juniors. We are thinking about alternative solutions in less expensive cities.

Fred: So at the end of 2016, you were in New York with your family, your work visa, you had set up a small team for Aircall, and what's the next step?
Oli: I hired a VP Sales North America. He put together a team of about ten people and after six months, I realized that things were not going well at all. We didn't get the results, there was no atmosphere, there was no drive, there was no 500 Startups spirit. I decided to fire practically everyone. I kept three or four people. And I started to reassemble. The good news is that I had Jeff in marketing who was starting to look really good. I had a salesman who was very good, a Dutchman, and I had Clément for partnerships. All four of us understand each other with the right values. When we recruit someone, we put them in front of the four of us. Altogether we are not too wrong. So we start to make fewer mistakes. I think that the mistake that I made was that I didn't hire a sales profile like Jonathan. I wanted to hire a VP Sales North America too early. I had to get in touch with the customers, I had to be there, if only for the culture. There weren't very many of us, but after nine months, we started to grow to ten, fifteen, twenty. The company worked well and we started to grow really fast.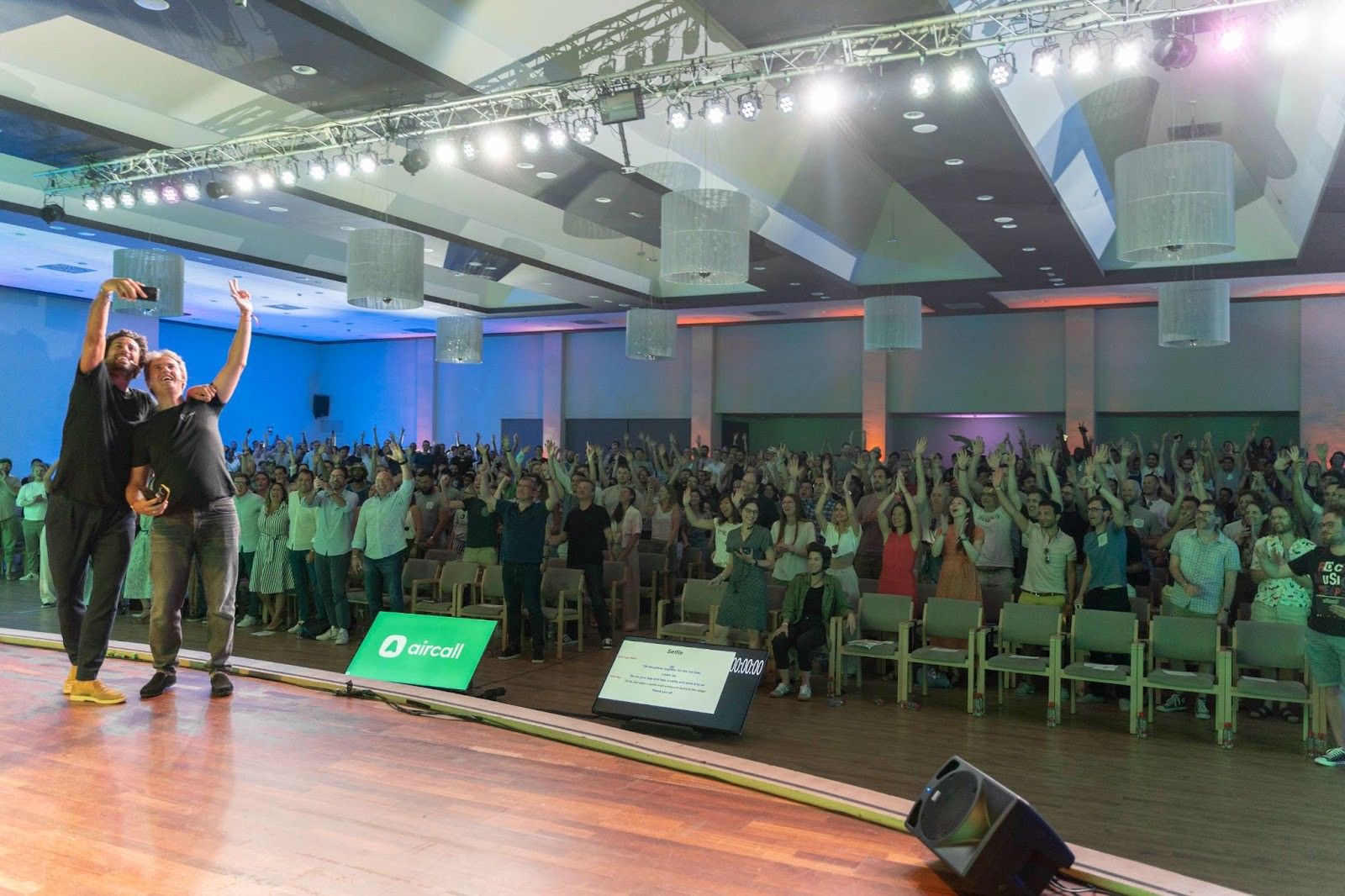 Fred: What actions were decisive for people choosing Aircall ? What made it start to click with your customers? Because when you look at the numbers, there's an almost exponential progression from 2017-2018. What's the secret sauce?
Oli: Actually, entrepreneurs often say they got lucky. There's some truth to that. Luck is the word for a good time to market and the ability to build the right product offering. Between 2015 and 2016, we managed to build a product that was able to seduce the first customers, by constantly adapting to their demands. There was more than enough to bring the go to market, basically. And by the way, after that, from 2017 until now, the product has been freezed in a way. There's a technical legacy, and it becomes much harder to add new features. And so the secret sauce is really to build the right balance of features and services. And very quickly, what really triggered the viral side of Aircall was the integration and partnerships with existing CRM tools like Hubspot, Salesforce, Zendesk, which gave us access to customers. The customer buys a CRM first, the telephony system comes right after. And if Hubspot recommends Aircall, that gives us an easy acquisition channel. Prescription is what we understood. And it worked at the same time in Europe and in the U.S., which prompted us to build a huge team on this subject. Today, there are more people working in partnership teams than in sales teams. It's pretty amazing.  In 2022, we have 46 salespeople and 54 partnership managers. And that was really the key. Other competitors have done telephony SaaS, pushing less integration, but they didn't have that exponential side. It's a network effect. The more Salesforce grew, the more leads they bring to us. You add a new integration then you automatically add a new source of leads.
Fred: Are there any mistakes you wouldn't make again today in your American journey?
Oli: I've already mentioned my mistake in recruiting in the United States and the feeling that Americans are not liars but simply know how to sell themselves in an incredible way. If I had to do it again, I wouldn't be looking for a senior who will unlock the US market because he has extensive experience. I'd do a lot of the work myself by getting more junior people. It's easier to learn the market and iterate. Once you find that, only then do you hire a VP of Sales. The second mistake is very important, it's even one of our biggest weaknesses: we didn't have a CTO. What the CTO brings is a strategy, a vision, a product architecture. The first two CTOs didn't last long so we were pragmatic and built the product on a very flexible front-end/back-end principle that met the needs of the moment very well. But we found ourselves stuck in 2018 with a super-heavy technical debt. And we had to do a lot of work with 300 engineers to regain full control over our technical infrastructure. That's behind us now but it took us four years. If I had to do it all over again, I'd get a real architect on board very early on, one who could tell me "no, we're not going to develop this feature because it's going to slow us down. Give me two months, we'll migrate to a new infrastructure or refactor our technical stack, and we'll make this new feature for you on a clean slate". And at the same time, we had this culture where the absolute driving force was sales, which is still our strength today thanks to Jonathan who is a brute of energy, pure energy. The problem is that we may have been a little unbalanced on the technical side and we paid for it for a while. Afterwards, the figures are there to say it too, we are at 100 million Euros of annual turnover today, finally, it did not work so badly. But it was a lot of pain and I think we could have done better and that would have required a real CTO, early on.
Fred: You are leaving your role as CEO of Aircall. What are you going to do from now on?
Oli: We're bringing in a new CEO, Michael Haske, who is quite an outstanding professional. I will become a board member. I'll be working closely with Michael, at least for the next six months but basically, I won't be operational anymore. On a more personal note, I have a plan to write a novel that I've always put off until now. Maybe I'll manage to find the time for it, for the first time in my life.