Fundraising trends of French startups in Q3 2023: The VC market saved by deeptech
Following the studies on the financing of French startups for the two quarters of 2023, Newfund now reveals the trends observed at the end of the third quarter. The downward gap compared to the third quarter of 2022 is now only 21%, compared to 48% when comparing the first three quarters of 2022 and 2023. The main explanation: the start of a new VC cycle favoring deeptech companies.

The Market Driven by a Mega Fundraising
In the third quarter of 2023, fundraising announcements amounted to €1.5 billion in France, compared to €1.9 billion in the third quarter of 2022: a decline of 21%. The market's decline is less sharp than in the previous quarter, where it was 35%, and even less than in the first quarter, where it reached 68%. However, these figures are significantly influenced by the mega fundraising carried out by deeptech company Verkor, which alone raised €850 million. Excluding this exceptional round, the total fundraising for the third quarter of 2023 stands at €692 million.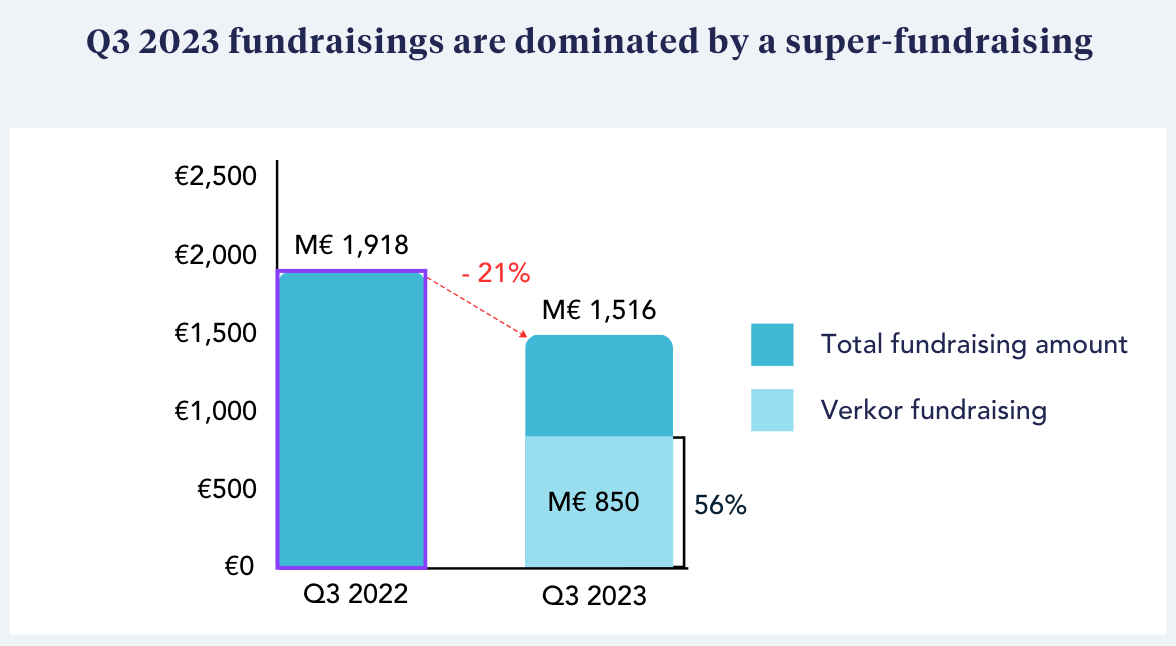 The Deeptech Startup Trend Asserts Itself
The third quarter of 2023 also confirms the emergence of deeptech startups, a trend that had already started to emerge by the end of 2022. Out of all the funds raised, 19 out of 155 startups are in the deeptech sector, representing 12.3% of the total (including Verkor, Mob-Energy, and Newfund portfolio company Reev). The number of deeptech companies funded is growing compared to Q3 2022: 13 startups out of the 213 that raised funds in Q3 2022 were deeptech (including Prophesee, Electra, or Elichens), representing 6% of the total number. In terms of investment size, Q3 2023 fundraisings amounted to a total of €988.7 million with Verkor (€138.7 million without), compared to €298.5 million for Q3 2022. Excluding Verkor, there are more deals in 2023, but of smaller amounts. This confirms the general trend that VCs are investing less but prefer very disruptive tech deals. The size of the deals can be interpreted as the start of a new cycle: the funded startups are at the beginning of their journey.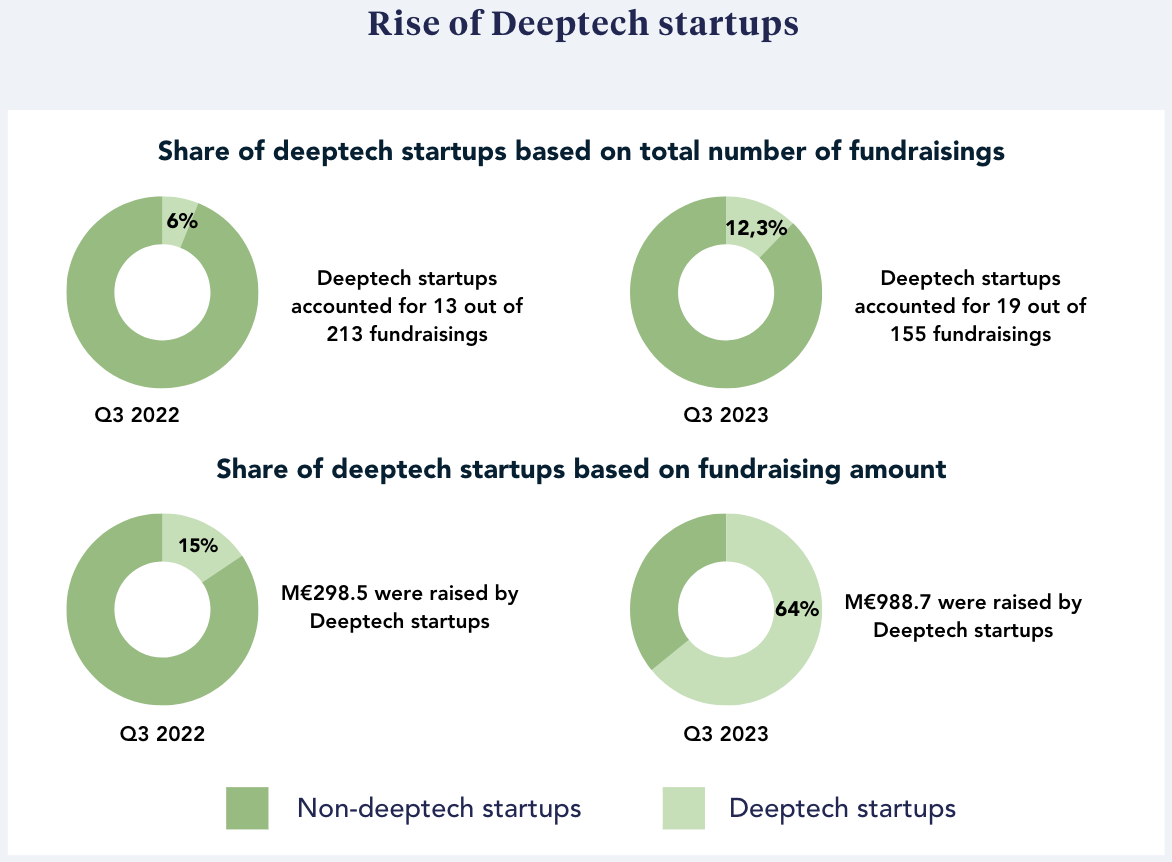 Cumulative 2023 analysis: Fundraising amounts may have halved compared to 2022, but stabilize at the 2019 and 2020 level
Cumulatively for the first three quarters of 2023, the amounts raised by French start-ups stand at €4.4 billion, a 48% decrease compared to the amounts raised over the same period in 2022 (€8.5 billion).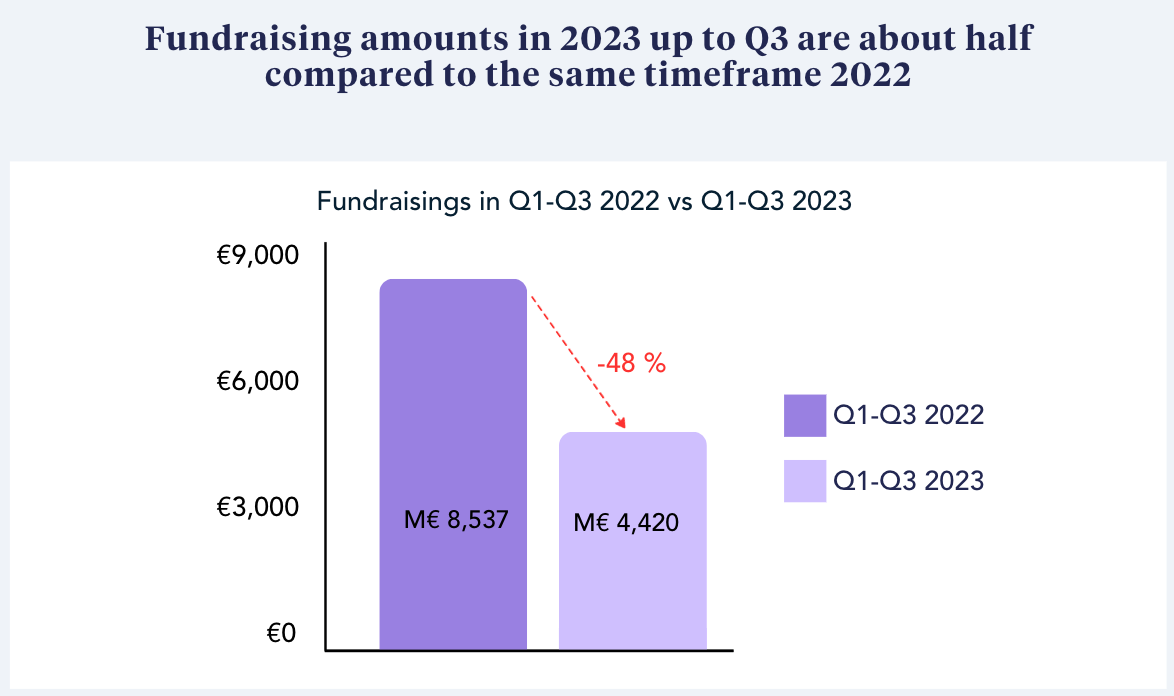 In total, the 2023 VC vintage is in line with 2019 and 2020, significantly lagging behind the two previous years.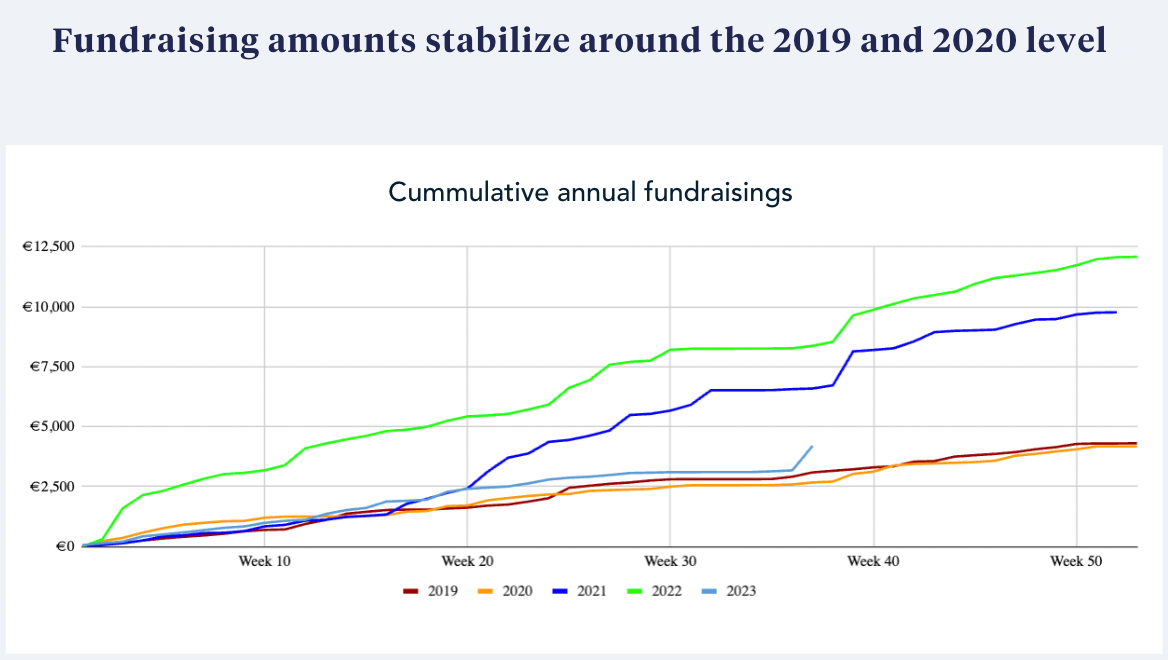 François Véron, managing partner of Newfund, commented: "Despite a 2023 marked by a slowdown in fundraising, we are not seeing an accelerated decline. The growing prominence of deeptech startups offers interesting prospects for the coming months."
Study Methodology: Data from eCap, Crunchbase, and Newfund, consolidated and analyzed by Newfund. Any full or partial reproduction of the study must include the mention: "Newfund Study: Evolution of fundraisings by French start-ups in the third quarter of 2023."