France could pioneer brain science-inspired statecraft
Harris A. Eyre MD PhD, Marion Leboyer MD PhD, François Véron, Paweł Świeboda, William Hynes and Rym Ayadi.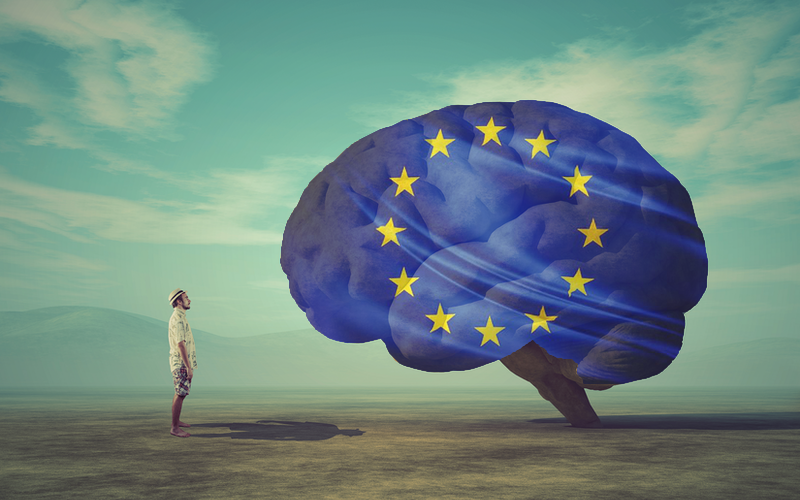 France will hold the rotating presidency of the Council of the European Union from January 1 to June 30, 2022. Brain science-inspired policies and economic settings are needed to solve existential brain challenges.
There is a convergence of brain challenges plaguing our communities: from mental health disorders, to learning disorders, to dementia, to long COVID "brain fog" and to disparities in educational access. Further, it is clear that we will not begin to solve some of our social justice issues - homelessness, incarceration, deaths of despair - without a focus on caring for people with brain health disorders. If these brain challenges are not definitively managed, our societies will have a hard time sustaining themselves both economically and socially - they are existential threats.
The French have mooted brain science as a top priority when they take up the European Union Presidency next year. Therefore, they are well placed to drive entirely new approaches. Let us ensure they aim at both funding brain science and brain science-inspired policy and economic advancements.
Brain function and the myriad of conditions that influence it are rarely considered in current economic or public policy approaches. This may in part be due to scientific advancements in the brain sciences outpacing economic and policy change. It is also a result of the siloed growing knowledge of the brain and economics rarely converging to inform the development and implementation of policy. These brain-based issues typically fall through the proverbial cracks, despite the fact that they cut across all policy areas and sectors of government. Their significance is magnified by the fact that uncertainty has been the dominant emotional status of European citizens in the course of the COVID19 pandemic, cited by 50% of respondents, with 29% referring to their sense of helplessness.
A new approach to improve economies and societies is long overdue. To this end, we have developed a novel asset, Brain Capital, which we believe can inform better policy development. Brain Capital incorporates brain health and brain skills, it drives economic empowerment, social resilience, and emotional connection. And yet, remarkably, Brain Capital is not captured by any existing measure of gross domestic product (GDP).
We believe Brain Capital should become one of the main themes of the Conference on the Future of Europe. As the Conference builds the future policy agenda, it should adopt Brain Capital as a guiding principle of the EU's future actions in a range of fields, from healthcare to poverty reduction. In doing so, it would connect governments with communities at all levels, engaging partners across the spectrum from small and medium sized enterprises (SMEs), to patient and caregiver groups, to educators, to health care workers, and beyond.
Inclusion on the agenda of the Conference on the Future of Europe would facilitate Brain Capital building policies being considered in sectors ranging from human development, immigration, gender issues, social justice, national security, racial equity, foreign affairs, the internet, environmental protections, and economic productivity. This could also be considered in climate policy as we recently outlined. This type of approach would lead to the developments of the infrastructure for novel approaches to public investments such as brain bonds, social impact investing and brain science-inspired ESG accounting frameworks.
By placing our brains – our most worthwhile asset – at the center of our EU policy-making, we will be able to increase people's productivity as well as their well-being. This strategy, aligned with the proposed European Brain Initiative, can build back better "European Brain Power". It's also a unique opportunity for the French Government to act as a global leader in building Brain Capital aka brain science-inspired statecraft. This brain-centric approach will allow us to successfully navigate with agility the unknowns and unpredictable changes to thrive in the 21st century.
Authors
Dr Eyre is co-lead of the Neuroscience-inspired Policy Initiative (NIPI) based out of the Organisation for Economic Co-Operation and Development (OECD) New Approaches to Economic Challenges Unit (NAEC), in close collaboration with the PRODEO Institute and the Meadows Mental Health Policy Institute.
Dr Marion Leboyer, MD PhD, is the CEO of fondation FondaMental, and Professor of Psychiatry at University Paris Est Créteil. Dr Leboyer is on the Steering Committee of OECD NIPI.
François Véron is venture capitalist, founder and managing partner at Newfund Capital.
Paweł Świeboda is director general of the Human Brain Project and CEO of EBRAINS.
William Hynes is Senior Advisor to the OECD Secretary General and Head of the NAEC Unit at theOECD.
Dr Rym Ayadi, PhD, is Founder and President of the Euro-Mediterranean Economists Association, Professor at CASS Business School, Member of the Centre for Banking Research (CBR), City University of London, Senior Advisor at the Centre for European Policy Studies (CEPS), Chair of the European Banking Authority – Banking Stakeholders Group (EBA- BSG).