Do VCs really add value? — Founders say sometimes.
NOTE: If Hacker Noon & Medium allowed multiple authors, this post would carry 2 other important names. The study referenced below, its findings, and this writing is a joint effort by Carl Fritjofsson at Creandum and Owen Reynolds from University of Chicago. Any reference to this work should also include their names.
As venture capitalists, we pride ourselves on being "value-added investors". We not only provide financial means to scale a company, but it is often accompanied by advice, connections and professional services of various kinds. I always aspire to be the most trusted and helpful investor and advisor to any company I get involved with. But in all honesty, I'm fairly certain that VCs tend to oversell the impact we have at a company and the actual value-add we bring.
On the basis of this idea, Carl Fritjofsson at Creandum and I set out to better understand the delicate relationship between VCs and entrepreneurs. Do VCs really add value? What do founders consider as investor value add? And how do founders evaluate their investor when they choose whom to raise capital from?
With support from the Kauffman Fellows Program and Owen Reynolds from the University of Chicago's Booth School of Business, we surveyed 98 VCs and 121 founders on this topic. We gathered respondents from every financing stage and institutional investors with $30M to +$2B in assets under management. Founders and VCs across the spectrum responded to a mirrored set of questions about their perspective of their counterpart. The samples were each separate pools, so there are no matched pairs.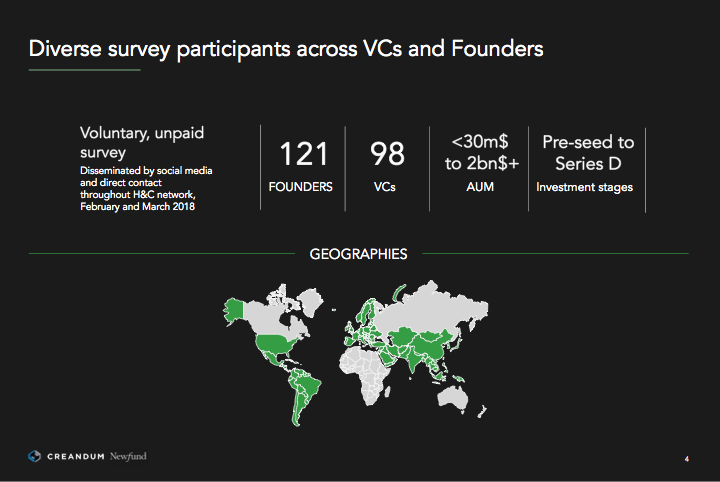 VCs and Founders Diverge
As expected, the differences between how founders perceive this relationship was different than for VCs. Founders report less frequent contacts, less operational support received than VCs report giving, and — perhaps more intuitively — quite different priorities.
One of the starkest contrasts is the way each group scored how impactful and helpful the VC has been for portfolio companies on a scale of one to ten. On a scale of 1 to 10, the average VC scored themselves a 7 while founders perceived them as a 5.3 — a 32% difference.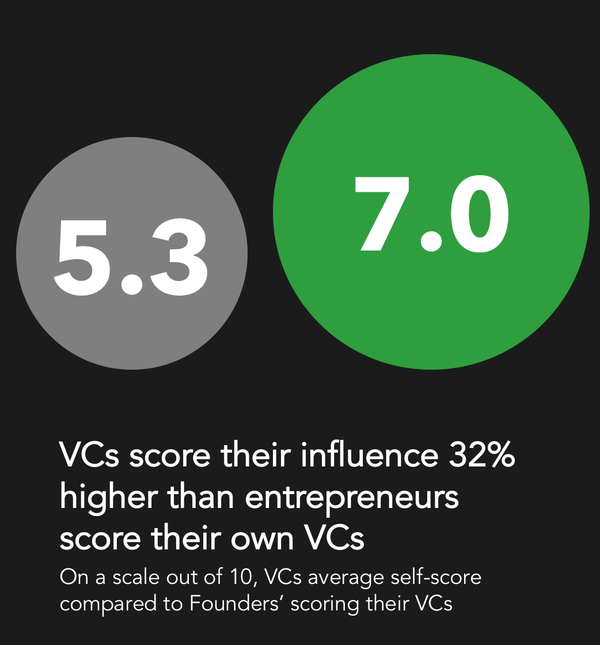 Similarly, VCs reported that they made weekly contact almost three times more often than founders reported receiving that level of contact.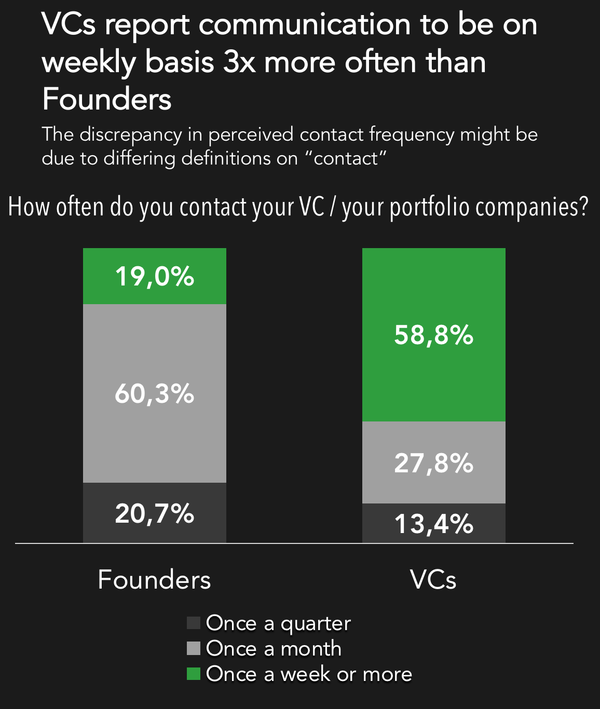 The results repeatedly point to VCs overvaluing how much time they spend with their portfolio companies as well as their contributions compared to the founders' perspectives. The disparity points to disappointment on the founder side, and perhaps a general misunderstanding of the role of a venture investor.
Decision Drivers for Investment and Partnerships
The survey also detailed the most telling aspects of how partnership decisions between VCs and founders are made. Founders ranked their top three most important criteria for choosing to partner with a VC, and VCs ranked top 3 criteria they thought the founders evaluated them on.
The study shows founders and VCs both report personal relationship and chemistry with the counterpart as the single most important decision-making factor. This supports the theory that…
…startup financing is a relationship business.
Both groups, though, surprisingly put track record low on the list.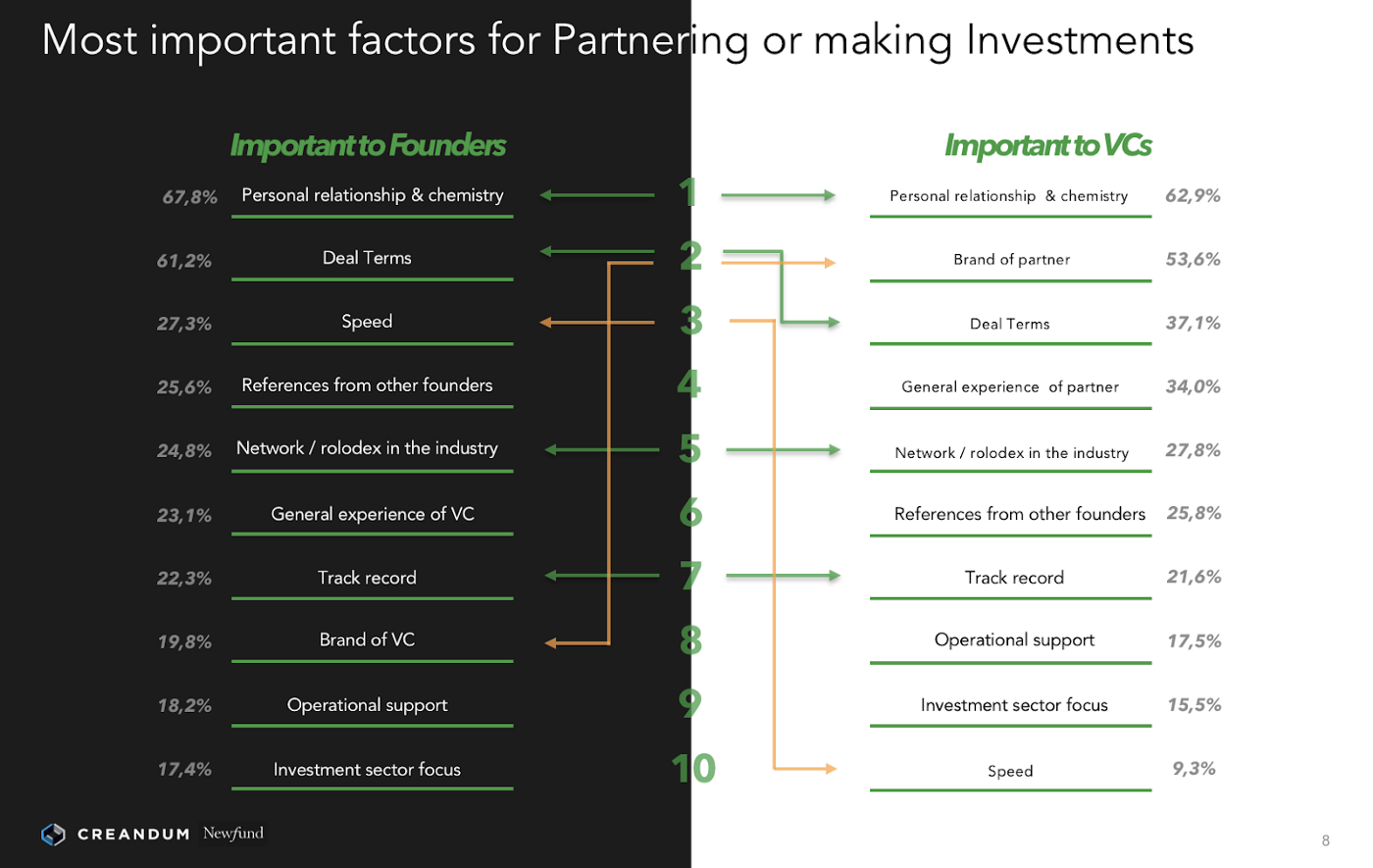 The biggest differences between the two samples were between speed and reputation.
Founders rank speed as their 3rd most important criteria and VCs, in fact, ranked it as the least important one. That's consistent with the serious constraints that a founder's fundraising timeline faces, but it's surprising to see VCs don't seem to really recognize it.
In contrast, VCs assumed founders put far more emphasis the brand of the partner and the experience of its leadership. VCs often believe their brand is what allows them to win deals but our research interestingly shows that…
…if you offer compelling deal terms with speed you are likely to outcompete even the strongest brand firm.
Operational Support
Another part of the study tried to understand what operational support VCs provided to their portfolio, and what services portfolio companies used. There were similar differences between the two groups discovered in perspective for such operational support functions.

More than 60% of VCs claimed to offer talent/recruiting and sales/biz dev support for their portfolio, but less than half of the portfolio companies were using any of such services by the VC. The study didn't go into details behind this, and additional research could be useful to understand if the discrepancy is due to poor quality of such services vs a lack of need by the portfolio companies. The numbers were closer in terms of ops (finance, legal, and admin) and marketing/growth, although…
…VCs generally overestimated how much startup founders valued the impact of their operational support.
The fact is that the venture industry today spends a lot of time explaining to the market around the various value-added operational services it provides. In the end, only a rather small number of companies actually leverage and use these services. This may indicate such services are more of a marketing tactic for VCs to differentiate themselves in a competitive market, rather than a belief these services will have a game-changing impact on their portfolio.
US vs Europe
Specific perspectives also differed across geographies. Founders in both Europe and the US share personal relationship & chemistry and speed as first and third most important characteristic when deciding to work with a VC.
European founders place the importance of deal terms above their US counterparts. This may be because European startups are more likely to be bootstrapped and cash flow positive at even early stages of investment.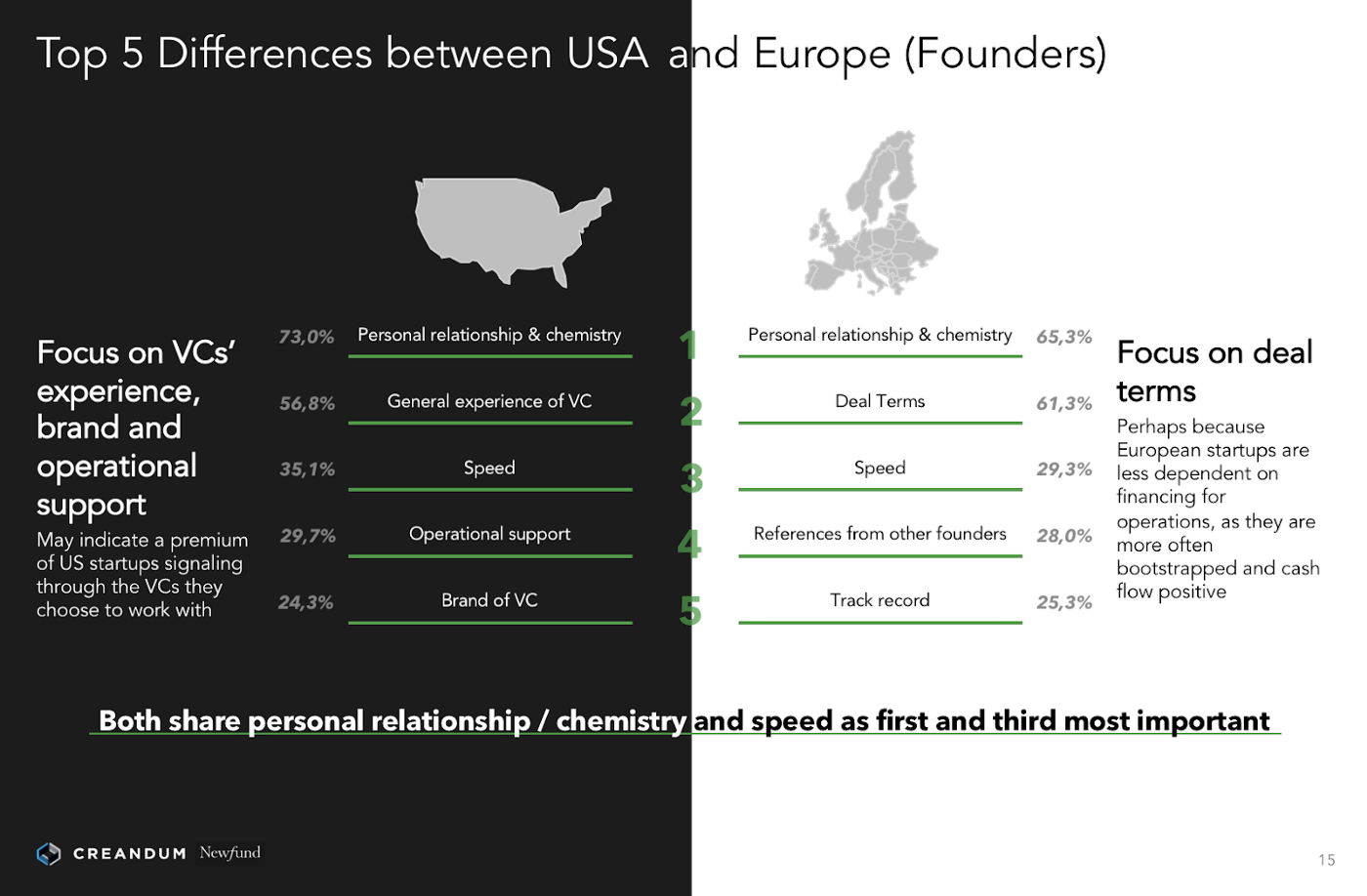 According to our research, VCs that focus on deal terms in Europe may be able to edge out their competitors. US VCs in particular may search for deals by leveraging their brand, however, this indicates that focusing on incentives for the founder may be more effective.
American founders, in contrast, report that the experience of VCs, operational support and brand of the VCs are more important than European counterparts. That may point to a premium US startups place on signaling through the VCs they choose to work with.
Despite the earlier assertion that startups value speed and deal terms, these subsets show that American startups do value the experience and brand relatively more than European startups.
As much as founders on opposite sides of the pond have different priorities, VCs in the US and Europe assumed founders were quite similar. These two subsets of VCs share four of the top five most important characteristics in making a partnership decision. The surveyed VCs ranked personal relationship & chemistry, the brand of the partner, and general experience as the top three most important, and the rest of the list had only minor differences.
Early vs late stage
At different stages of investing, founders also have some notably different priorities. Speed and network within the industry are much more important at earlier stages, according to our survey. Investors focusing on earlier stage investments can gain advantages over competitors in early-stage deals by focusing even more acutely on speed and a well-developed network with potential customers and partners for the startup.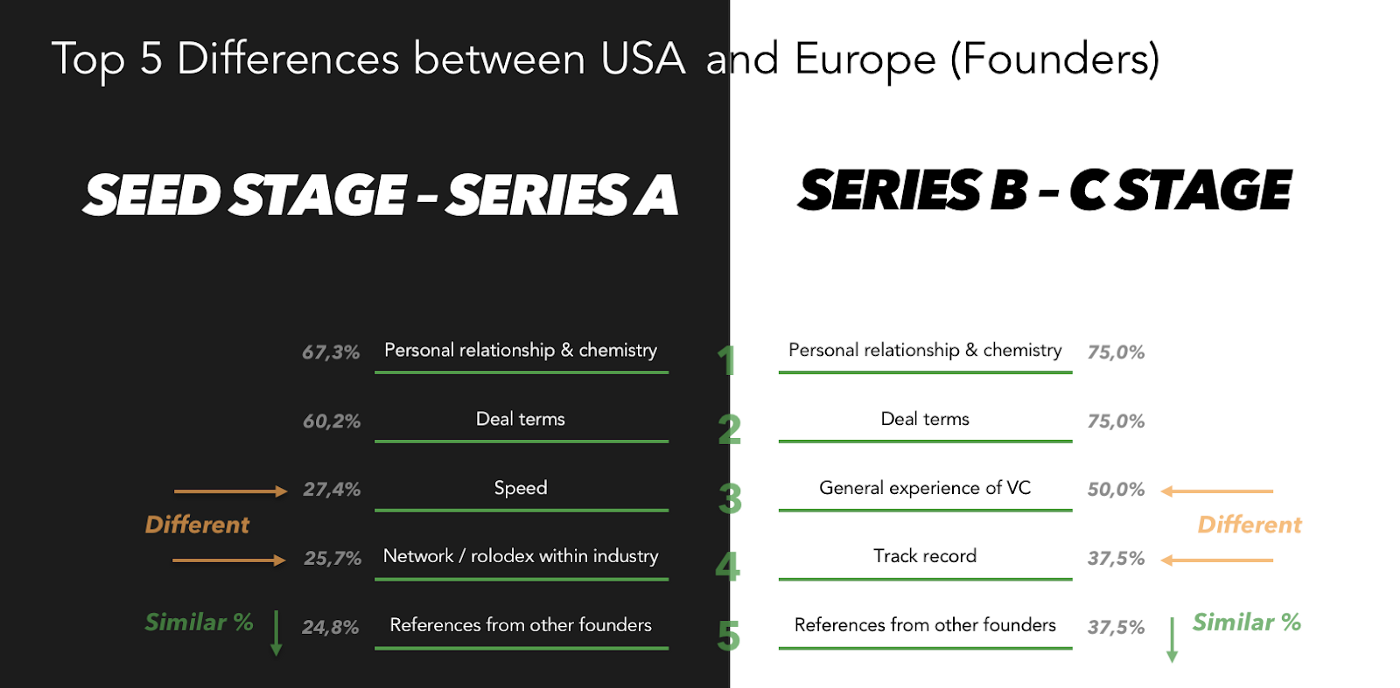 As companies get into the later stages of financing, experience, and track record replace their earlier needs for speed and networking, perhaps reflecting a stronger position of negotiating power. This seems to support VCs practice of waiting until they have gained a track record to enter larger later stage deals, as it may give them the advantage to get into highly sought-after investments.
And while VCs across geographies thought founders would have quite similar priorities, funds with later stage activities seem to believe their founders would have rather different priorities than those that focus on earlier stage investments. They still ranked personal relationship & chemistry and the brand of the partner as the top characteristics that funds use in decision-making, though other priorities diverge.
Investors that limit stages to pre-seed, seed, and Series A thought their founders placed greater importance on deal terms, network within the industry, and experience of the partner. The priority on terms reflects the earlier fulcrum of the option value in the business life cycle. Later stage VCs, in contrast, focus on general experience, track record, and even fit for operational support.
There were, however, few differences in VC responses across size categories as measured by assets under management, which is surprising as a larger fund would be able to carry more costs from operational support functions.
These rankings and details flesh out the differences in perspective between subsets of VCs and founders. The discrepancy indicates a certain amount of misunderstanding between the two sides, as well as a golden opportunity to bridge those gaps.
---
In closing, VCs and portfolio founders generally have the same ambitions — to build an amazing company. Personal chemistry between the founder and VC matters the most, and the tangible value-add VCs think they provide is discounted by founders. Regardless, as VCs, we will continue to support our founders by all means possible, and push our industry to evolve and iterate around what that support looks like. 💪👊
The full study is available here:
For reference, the original article is available here.
---
Your feedback is priceless, feel free to ping us at henri@newfundcap.com.